Before I get into the weeds about why Palo Alto Networks, Inc. (PANW) is a robust cybersecurity company, I want to touch on the state of the cybersecurity industry and the recent developments that investors must be aware of.
Our cyber enemies have become sophisticated and nimble – the days of malicious software, the days of keyloggers have died out.
Now we're talking about AI-based bots via machine learning (ML)-based attacks and corporations must maintain an entire enterprise infrastructure blocking external forces that hope to wreak havoc on the inside once they are in.
The volume of breaches has mushroomed in the past year because of the switch from manual hacking to automated hacking resulting in countless attacks.
Many companies that get hacked still don't know they are hacked as we speak and could go unnoticed for decades.
And more commonly, breaches are automated attacks and even from state-sponsored groups that shoulder the dirty interests of sovereign states.
The number of artificial intelligence attacks that spread like wildfire clearly offers a pathway for Palo Alto Networks, Inc. (PANW) and companies of its ilk a golden opportunity to exploit the addressable market of protecting network infrastructure.
Every year, the stakes creep higher as globalization puts the pressure on global corporations to succeed in any way possible.
It is important to understand the context in which Palo Alto Networks, Inc. (PANW) operates and how impressed I am with the past earnings results that saw revenue 22% year-over-year to approximately $806 million.
Quarterly billings crossed the $1 billion mark, a first in the company's history.
And superior performance in Prisma and Cortex platforms which refer to the collective next-gen security was substantially strong.
Palo Alto Networks, Inc. (PANW)'s next-gen security billings were approximately $192 million in the quarter. This represents a $768 million annual run rate and accelerated growth to approximately 180% year-over-year.
Over the last 12 months, the Prisma and Cortex teams will expand from 500 people to 1,500 people, and this will transpire through hiring new staff.
The company can effectively redeploy resources from what would have been part of the core business into the new business.
These revamps result in additional acceleration to the Prisma and Cortex growth rate from approximately 70-odd percent to 180%.
Here's a quick side jaunt about the intent to acquire Zingbox, an enterprise IoT security company.
This acquisition is yet another pristine instance of the firm's ongoing strategy to consolidate new technologies into a next-generation firewall platform, allowing customers to protect their complex enterprise ecosystems.
Some inter-industry developments have favored the company in a positive way with Palo Alto Networks catapulting Symantec and Zscaler at a Fortune 50 U.S. retailer to secure their data center and network of more than 2,000 retail outlets.
Palo Alto Networks displaced Zscaler and beat Fortinet at a major European national healthcare provider in their digital transformation project.
This will result in securing servicing for hundreds of hospitals along with all of their patients and employees.
Many victories will result in Palo Alto Networks winning the war against competition.
Palo Alto Networks beat CrowdStrike and displaced Symantec with the Prisma and Cortex platforms at a global insurance company with more than 25 million policyholders.
Palo Alto Networks beat Fortinet and displaced Cisco to become the standard security platform for the government at one of the most population-heavy regions in Asia Pacific.
Companies are spending more on cybersecurity, period.
What will the new paradigm shift of cybersecurity look like?
I believe the world migrates towards a lesser number of vendors.
The world needs to go towards more comprehensive security.
Industry needs to ditch manual labor and focus on diligently automating processes by scale.
Cybersecurity finds itself at an inflection point in the industry.
Almost every customer I've met with in the last month, approximately 600 of them, is in some way, shape or form on their journey to the cloud.
Some are analyzing the cloud. Some of them could deploy some applications in the cloud.
Some of them are in a hybrid cloud environment already and are looking to add more functions.
Some of them are going to go to multiple clouds.
Honestly, there is not a real customer who's not talking about the cloud.
The security cloud market is a $1 trillion addressable market in the next 5 years offering a massive opportunity for cloud security firms to play an outsized role in allowing these customers to make that cloud journey over the next 3 to 5 years.
No need to obfuscate my words – I am bullish Palo Alto Networks, Inc.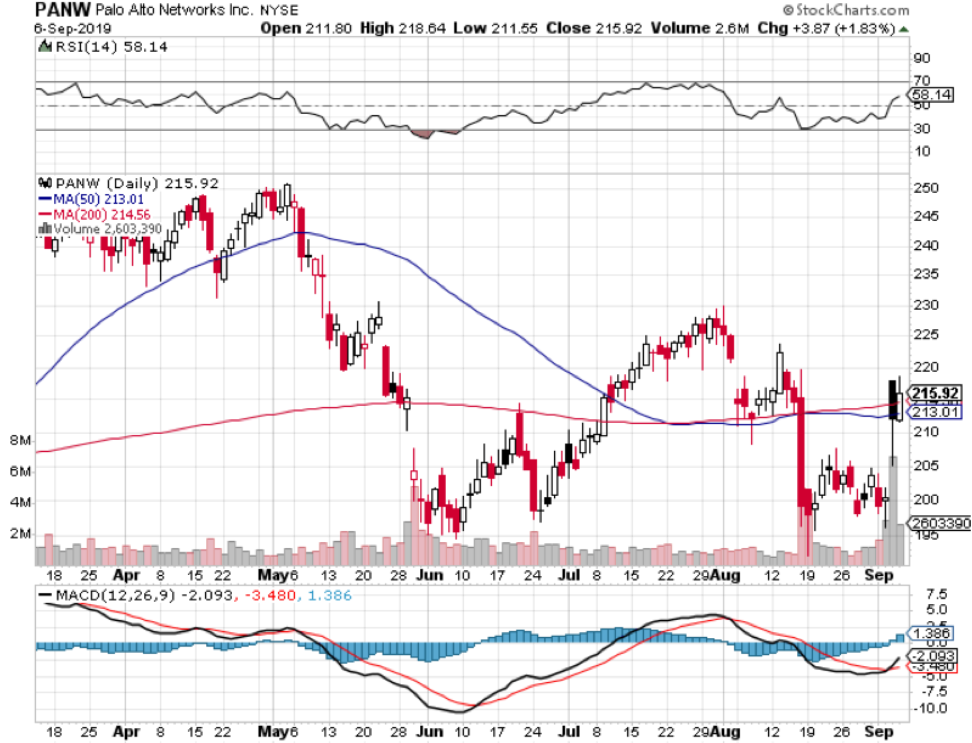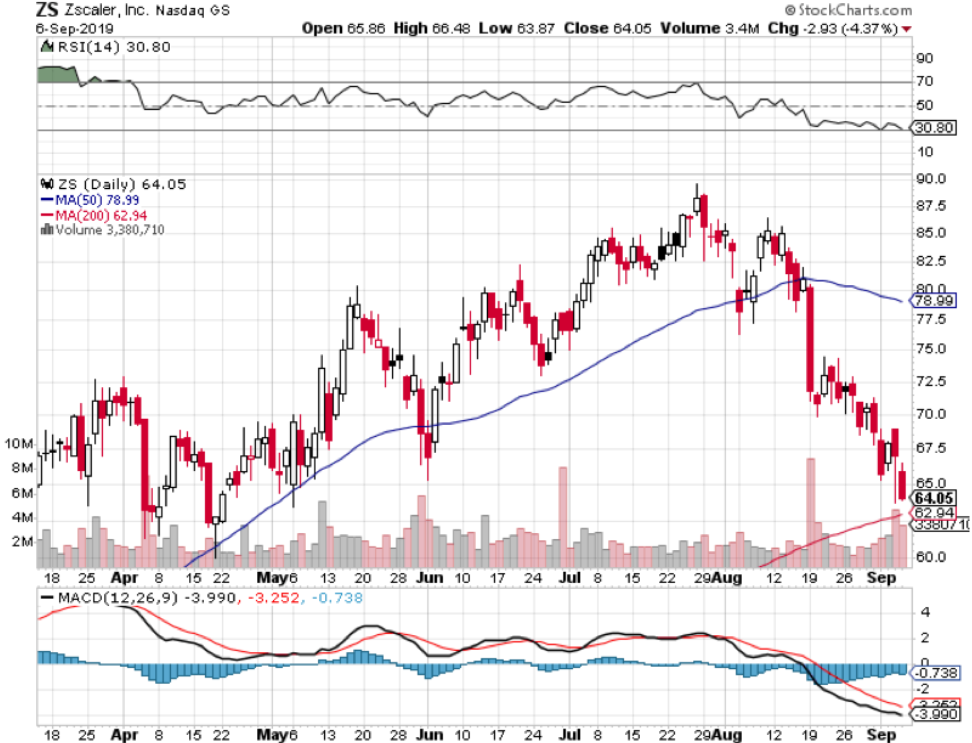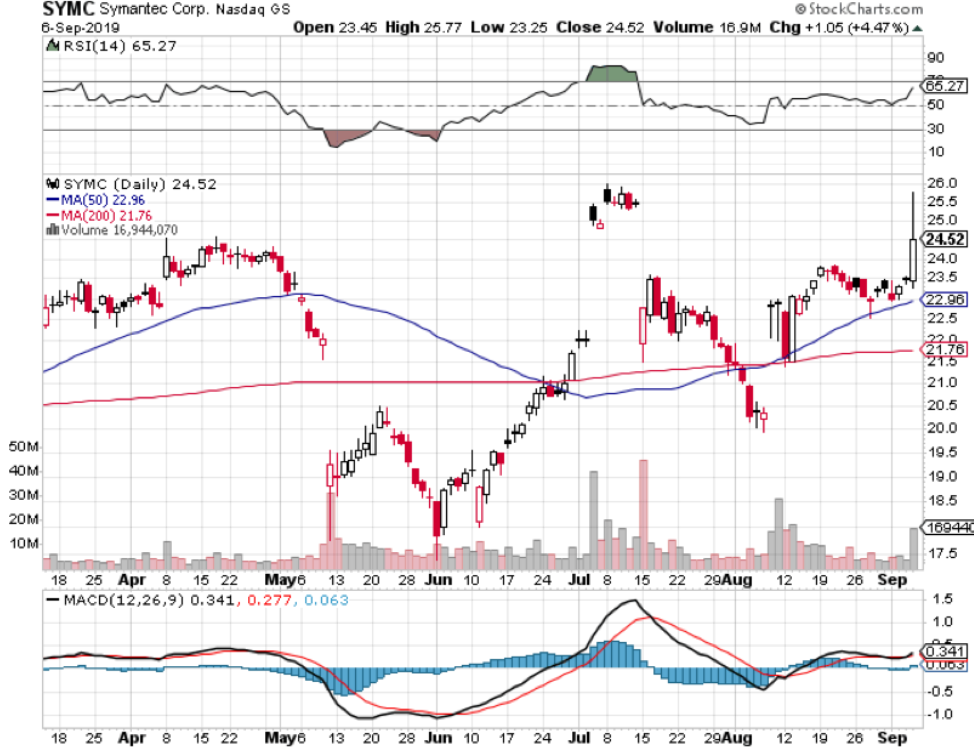 https://madhedgefundtrader.com/wp-content/uploads/2019/05/cropped-mad-hedge-logo-transparent-192x192_f9578834168ba24df3eb53916a12c882.png
0
0
Mad Hedge Fund Trader
https://madhedgefundtrader.com/wp-content/uploads/2019/05/cropped-mad-hedge-logo-transparent-192x192_f9578834168ba24df3eb53916a12c882.png
Mad Hedge Fund Trader
2019-09-09 04:02:05
2019-10-14 10:38:55
Meet Your Next-Gen Hacker