Nvidia (NVDA) is a stock that you should beg, borrow, or steal your way into any way you can.
Fortunately for you, the recent presidential election just gave you an opportunity to steal it.
By making instant pariahs out of the technology sector, and their globalization-based models, the? President-Elect is forcing portfolio managers to throw babies out with their bathwater.
That includes Nvidia, which gave up 10.52% from its high during last week?s tech wreck.
I first recommended Nvidia on November 2nd, (read more about ?The Great Artificial Intelligence Stock You?ve Never Heard Of?).
In the piece I argued that the shares could double over the next three years.
I lied.
They rocketed by a stunning 43.93% in the following three weeks!
And after what I heard at an exclusive Silicon Valley dinner party last week, I now believe that my doubling call is ultra conservative.
Leaks are emerging that Nvidia is about to make public its SATURN V supercomputer, so named after the NASA rocket that took astronauts to the moon during the 1960s and 1970s.
It is a cluster of 124 DGX-1s super computers, known as Nvidia's "AI in a Box". It delivers 9.46 gigaflops per watt, a 42 percent improvement from the 6.67 gigaflops per watt delivered by the most efficient machine on the Top 500 list released only last June.
This is a big step towards exascale computing, or one completing quintillion floating-point operations per second.
In addition, (NVDA) wants to combine AI and supercomputing, unlocking the power of AI for large-scale problems like autonomous vehicles, modeling fusion reactors, and a plethora of breakthroughs where deep learning would be a good fit for the problem at hand.
I have been covering Silicon Valley since it was a verdant, sun-kissed peach orchard in Northern California.
I have to say that in the half century that I have followed the technology industry, I have never seen the principals, gurus, and visionaries so excited about a major new trend.
That would be artificial intelligence or AI.
Asking if AI is relevant now is like pondering the future of Thomas Edison?s new electricity in 1890.
If you think AI still belongs in the realm of science fiction, you obviously didn?t get the memo. It is all around us all the time, 24/7. You just don?t know it yet.
And here?s the rub.
It is impossible to invest purely in AI.
All new AI startups comprise small teams of experts from labs and universities financed by big venture capital firms like Sequoia Capital, Kleiner Perkins, and Andreeson Horowitz.
After developing software for a year or two, they are sold on to major technology firms at huge premiums. They never see the light of day in the form of a public offering.
Alphabet (GOOG) acquired Britain based, Deep Mind, in 2014. Later that year, Google?s AlphaGo program defeated the world?s top ranked Go player.
Last year, Microsoft (MSFT) purchased Equivio, a small firm that applies AI to advanced document searches on the Internet.
Amazon (AMZN) recently bought out Orbeus, a startup known for machine learning tools for image recognition.
Amazon?s Jeff Bezos now says that his Amazon Fresh home food delivery service is using AI to grade strawberries.
Really!
We?re not talking small potatoes here.
The global artificial intelligence market is expected to grow at an annual rate of 44.3% a year to $23.5 billion by 2025.
Nearly half of all applications now use some form of AI that by 2020 will earn businesses an extra $60 billion a year in profits.
And from what I have learned from speaking to the major players over the last few weeks, I am convinced that these numbers are low by an order of magnitude.
It gets better.
If you have, in any way, been involved in the stock market for the past five years, AI has invaded your life.
High frequency trading and hedge funds now account for 70% of the daily trading volume on the major stock exchanges, and almost all of this is AI driven.
Having spent my entire life trading stocks, I can confirm that in recent years the market?s character has dramatically changed and not for the better. Call it trading untouched by human hands.
Algorithms are trading against algorithms, and whoever wins the nuclear arms race brings home the big bucks.
You used to need degrees in Finance and Economics, or perhaps an MBA, to become a professional fund manger. Now it?s a PhD in Computer Science.
Remember the May, 2010 flash crash, when the Dow Average plunged 1,100 points in minutes, wiping out $4.1 billion in equity value? AI?s fingerprints were all over that.
And only weeks ago, the British pound lost 6% of its value in a mere two minutes, a move unprecedented in the history of foreign exchange markets. The culprit was AI.
Don?t expect the path forward to AI to be an easy or smooth one.
Indeed, the machines already have the power of life and death over all of us.
Since we aren?t venture capitalists, we can?t buy into pure AI firms in their early stages. And I?m too old to get a PhD in computer science.
We therefore have to be sneaky and get in through the back door via an indirect play which still has plenty of upside leverage.
What is the one medium sized, publicly listed company that most benefits from the AI explosion?
I have found exactly such a company (it was small at the beginning of the year) that represents the marrying of the four biggest trends in technology today: AI, self-driving cars, big data, and virtual reality.
That would be Nvidia (NVDA).
The Santa Clara, California based company manufactures graphics processing units (GPUs) for the gaming market as well as system-on-a-chip units (SOCs).
It is heavily involved in super computing and mobile computing, producing processors for tablets, iPhones, and vehicle navigation systems.
Nvidia, named after the Roman god, Nemesis, was founded in 1993. It was the original supplier of processors for the Microsoft Xbox and Sony?s (SNE) PlayStation 3.
In 2011, it demonstrated the first quad-core processor for mobile devices.
Nvidia has been on an acquisition tear over the past decade, picking up more than a dozen companies to expand its reach into the most advanced AI and manufacturing technologies, as well as picking up some first class talent.
Nvidia has more engineers working on AI than any other company, or institution, in the world.
Its integrated stack of imaginative chip designs is unmatched.
Its principal competitors are Advanced Micro Devices (AMD), Intel (INTC) and QUALCOM (QCOM).
To learn more about Nvidia, please visit their website at Nvidia
http://www.nvidia.com/content/global/global.php .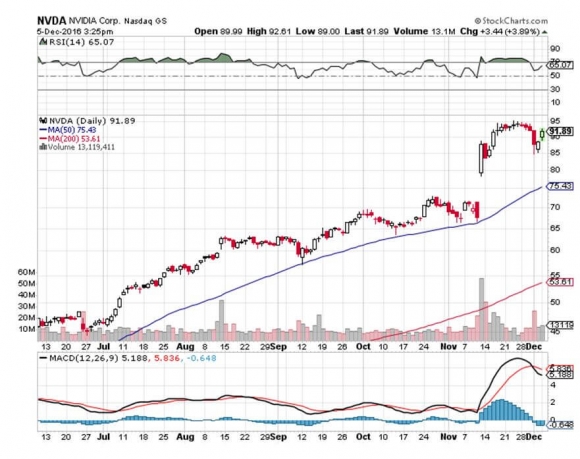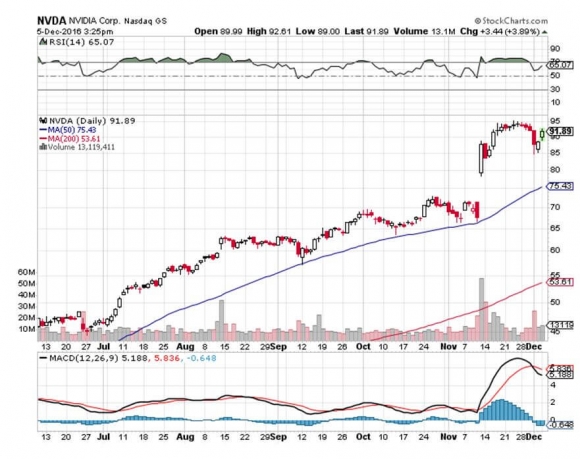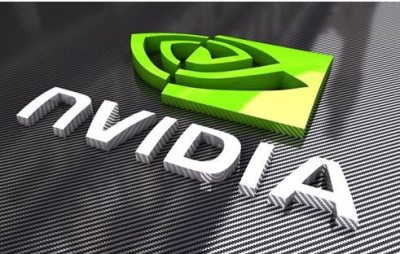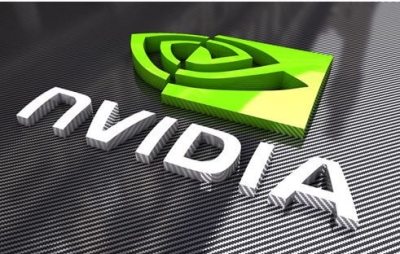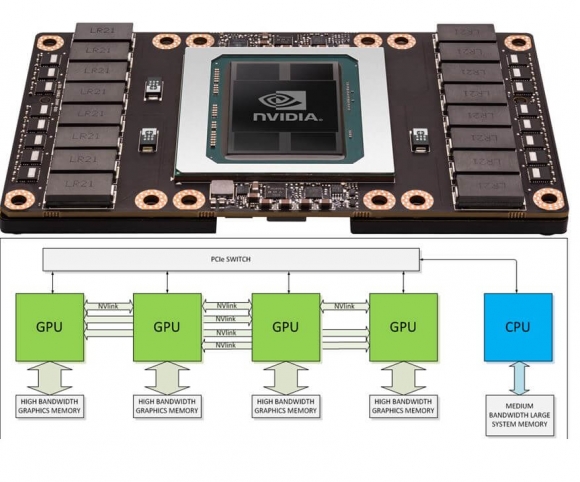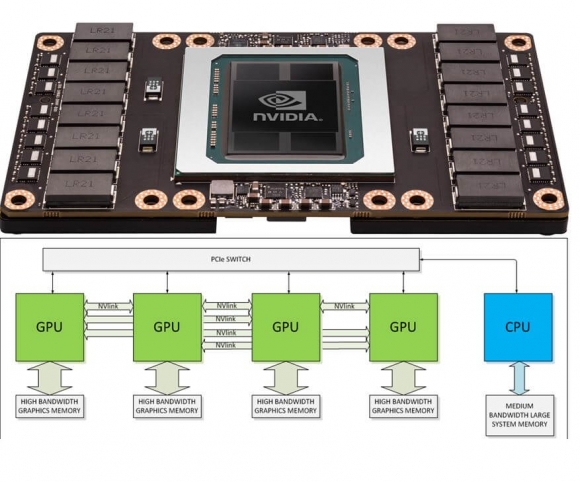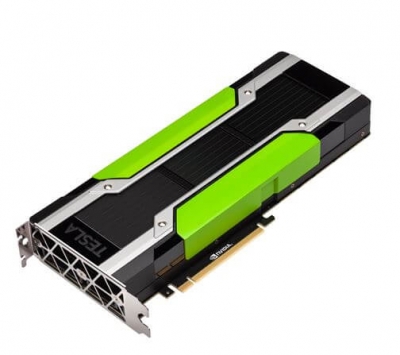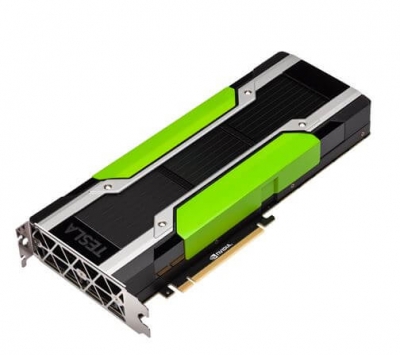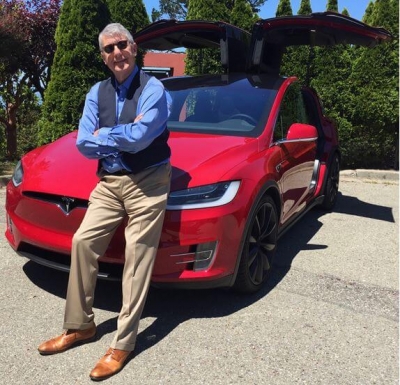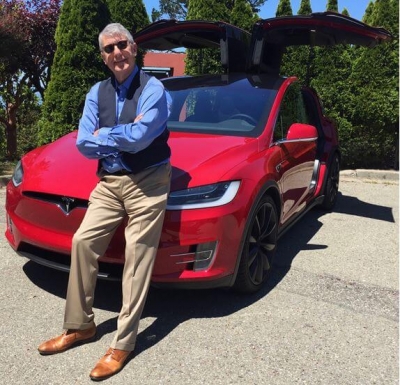 She?s Smarter Than You Think
https://madhedgefundtrader.com/wp-content/uploads/2016/11/Nvidia-Logo-e1478041238279.jpg
254
400
DougD
https://madhedgefundtrader.com/wp-content/uploads/2019/05/cropped-mad-hedge-logo-transparent-192x192_f9578834168ba24df3eb53916a12c882.png
DougD
2016-12-06 01:07:05
2016-12-06 01:07:05
The One Stock You Absolutely Have to Beg, Borrow, or Steal